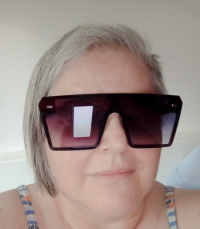 I want to invite you to visit my store
"krasilni razbor"
to see a wide collection of greeting cards with
unique
ornamental designs.
Feel free to contact me if you wish any card's FRONT to be personalized. Just use the ARTIST'S PALETTE icon under choosen card's thumbnail image or on the View Details page of choosen card.
My cards may be customized upon request to a certain extent.
Colors may be changed and any text may be added to the front. The same applies to photo-cards. Just send me your photos with your requests. I will respond within
36 hours.
Finished custom cards created for you will be then available to see and to be ordered in the private gallery in my GCU store
"krasilni razbor"
.
I hope you like my cards and designs, if so please be sure to tell your friends. And do not forget to visit my store again soon, new cards are added frequently.